Branches of Our Ancestrial Tree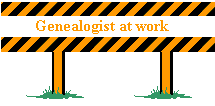 Like branches on a tree, we may grow in different directions,
yet our roots remain as one.
Greetings Cousins!
Welcome to my family page. What started out as a college sociology assignment has turned into an on-again-off-again thirty year plus project. Sometimes I feel like I have taken on too much by trying to work on all sides of our family at one time and not giving any one family more time that any other. But that is what makes it interesting, trying to keep all of the names straight.
I started out with help from my grandmother (Sylvia Scheall) who received a book from one of her sister-in-laws. I took that information and added my husband's family and this began our trek down memory lane.
I would like to thank my husband, Ken, and our four children, Karin, Peter, Brian, and David, for all their help. If not for them I would not have gotten as much information as I did. Thank you for all your traipsing through all those cemeteries and reading all those blinding micro films.
Mom
Linda Tessin
Don't forget to sign my guestbook below!

SURNAMES
Ken's parents are Eldon Arthur Tessin and Ruth Marie C. Heinlein. Pictures of some of the family members.

Linda's parents are Wilford Richard Jock and Sylvia Mae Scheall. Pictures of some of the family members.

---
July 14-15, 2006: 12th annual Scheall Family reunion at the Scheall Motel on Highway 2 in Michigan's Upper Peninsula . Pictures of the 1995 reunion in Midland, MI.
Michael Bull passed away on 12 Jun 2006.
Reuben Heinlein passed away on 17 Jun 2006.
Winifred Meeker passed away on 1 Jul 2006.
---
LOOK AT OTHERS WHO HAVE SIGNED IN!
---



This page was last updated on July 6, 2006.
This page is a copyrightę1997 Linda Tessin. All rights reserved.
Designed by: Karin Tessin
Graphics were from Cherished Memories.

---
AWARDS
---